Car Horn Organ: A Brief History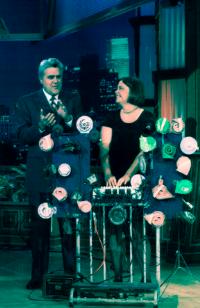 Wendy Mae Chambers invented the Car Horn Organ in 1983. The instrument is comprised of 25 car horns operated by a homemade keyboard and powered by a car battery charger. The car horns were selected with a pitch pipe and purchased from junk yards, with the exception of the Cadillac C-Trumpet and the "ahooogah" horn which were purchased new.

Her signature tune is "New York, New York" which she first performed at the opening of the New York City Car Show at the Coliseum for the then Mayor, Ed Koch.

Other performances include most recently the Tonight Show with Jay Leno(August 2, 2000), galleries & clubs in NYC, Wesleyen College, the Brooklyn Bridge Centennial Parade, the Statue of Liberty Centennial, the World Trade Center Winter Garden, Lincoln Center Out of Doors, the NY Historical Society, Sardiís Restaurant and a benefit at the Guggenheim Museum where Ms. Chambersí performance was covered in the NY Times Society page! She and her instrument are in the April issue of Smithsonian Magazine (1999).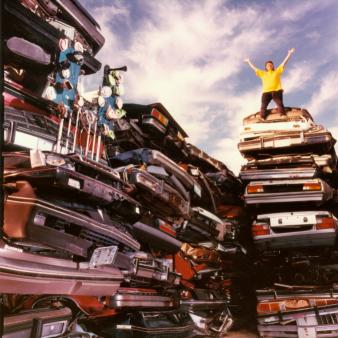 Photo by Theo Westenberger
Ms. Chambers has just completed recording her "A Car Horn Organ Christmas" and a series of television advertisements for Gunn Automotive of San Antonio, Texas.
The Car Horn Organ made appearances on NBCís "Live at Five" with Chauncy Howell and Fox TVís "Good Morning NY" with Judy Licht. It has aired extensively on radio.
A recording of the Car Horn Organ playing "NY, NY" is currently available in "Gravikords Whirlies & Pyrophones" published by Ellipsis Arts.

Photo by Brenda Hutchinson

Artmusic, Inc. released a Car Horn Organ 45rpm in 1983 which is still currently available through Ms. Chambers now on CD!

The Car Horn Organ was proceeded by a composition by Ms. Chambers for 9 cars titled "Real Music". She believes she got the idea for the instrument while asleep in her apartment in Brooklyn, waking up to a distant traffic jam on the Brooklyn Queens Expressway that sounded like a Mahler symphony.

The instrument contains horns from General Motors, Fiat, Datsun, Volkswagen, a Cadillac C-trumpet and an ahooogah horn!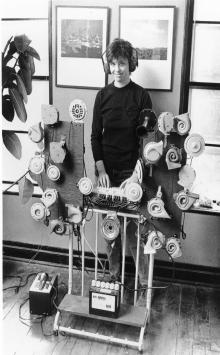 Photo by Mallory Hattie